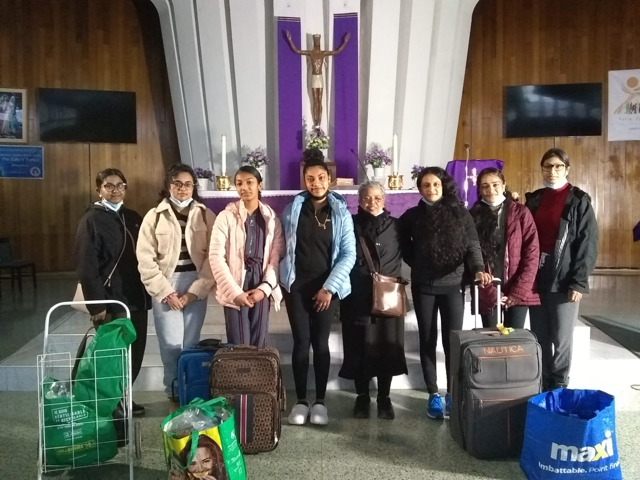 On the feast of St. Joseph, March 19, 2022, the youth of the  Holy Family of Bordeaux in Montreal, Canada, went to meet our homeless brothers and sisters.
We gathered in the church and prepared bags with food and health-care items, with hot tea in water bottles.  Our parish priest, Fr Andrew, gave a beautiful prayer, highlighting the feast of St Joseph, the guardian of the Holy Family and his brotherly love for humanity.  With suitcases and trolleys, we set off to the metro stations, looking for homeless brothers and sisters - to talk to them and respond to their needs.   And above all, to show them that we care and love them.  There were eight of us. It was an extraordinary spiritual experience, as well as giving us great pleasure.  Seeing their beaming faces brought us inner peace and satisfaction - Sr. Doreen Philippiah
Participants' experiences
Mary Jancy Amalathas: I am grateful to have participated in this act of charity because I had the opportunity to do something I had never done before. I felt happy and excited to talk to new people and meet their needs by communicating with them. The most touching moment was when they blessed us. Their kind words make us want to continue rendering such service. Overall, I really enjoyed the day and had a great experience.  I am really happy to be part of Holy Family Youth with my friends at Our Lady of Deliverance Church, Tamil Mission.
Mystica Jeyathasan: Hi, hello, I had a great experience with the poorest people by interacting with them. Rather than avoiding them, to engage with them as we would with any other member of our community. Everyone is human. A smile, a kind word can make someone's day. This experience encourages us to do more outings like this and help many others who are in need. We all bought something and went to 3 different metro stations. We found many poor people, thank God they were all open hearted and some told us about their life experiences. I wish I could do more trips like this to get more experience.
Jennifer Selathurai: Helping the homeless has increased my happiness and satisfaction. It has made me realise how blessed I am by God. I truly believe that the only meaning of life is to serve humanity as well as God. And thanks to this opportunity, I was able to experience this. This charity work also brought me closer to other young people. As we were living the same emotions and convictions, we were able to share them openly with each other. Seeing a smile on the faces of many homeless people gave us joy and positive energy to continue doing this good work. I would be willing to do this charity work again and I will always thank God for all the blessings he has bestowed on me.
Sophia Jeyarajah: Helping others makes me happy. There is no better feeling in the world than putting a smile on the face of someone in need. I was lucky enough to have this experience which I really loved, on the 19th of March which was also St. Joseph's day. I hope I will have other opportunities to do this kind of experience again.
Abarna Athiruban: When I reflect on the charity activity that we all did together as Holy Family youth, it was really interesting. At first it seemed a bit difficult for me.  But when we started to meet the needy people in the metro stations, I felt really blessed.   Helping the poor in their need gave me great satisfaction.  Moreover, seeing a big smile on their face made me even happier. This particular experience taught me one good thing, as Jesus says: "Give to anyone who asks you, no matter what the person looks like". At the end of the day, I had a great peace in my heart, because I had helped someone and made them happy. To conclude, this experience was something new for me and I am definitely thinking of doing this kind of charity work again in the future.